FEATURED STORIES


Everglades deal clears hurdle, but faces several more
By Paul Quinlan and Michael C. Bender
Palm Beach Post
Worsening economic projections, a looming U.S. Environmental Protection Agency mandate and even rising sea levels now threaten to scuttle Gov. Charlie Crist's half-billion-dollar Everglades restoration land deal with U.S. Sugar Corp. before its new, Sept. 30 deadline.
Environmentalists Say NY Times Ignored Politics in Everglades Story
By Scott Finn
WUSF Public Radio Tampa
Florida water managers have voted to keep alive a half-billion dollar plan designed to restore the Everglades.
Deal to Save Everglades May Help Sugar Firm
By Don Van Natta Jr. and Damien Cave
New York Times
When Gov. Charlie Crist announced Florida's $1.75 billion plan to save the Everglades by buying out a major landowner, United States Sugar, he declared that the deal would be remembered as a public acquisition "as monumental as the creation of the nation's first national park, Yellowstone."
Board Extends Deadline for Everglades Land Deal
By Damien Cave
New York Times
Facing legal challenges and growing deficits, South Florida water officials on Thursday gave themselves six more months to finance a controversial $536 million purchase of land from United States Sugar for the Everglades.
Crist defends Glades deal
By Jim Ash
Tallahassee Democrat
Gov. Charlie Crist fired back Monday at critics who pummeled him for a $536 million Everglades land deal that they describe as a giveaway to U.S. Sugar Corp.
Sugar deal sparks call for oversight
By Michael Peltier
News Service of Florida via Miami Herald
With lawmakers already frustrated over a lack of oversight, recent reports on the state's landmark $536 million Everglades agreement with U.S. Sugar Corp. may add momentum for a legislative response in an attempt to prevent a repeat of the controversial deal, a key House lawmaker said Monday.
Fla. gov fights for Everglades amid US Senate race
By Brian Skoloff
The Associated Press
Gov. Charlie Crist's grand plan to revive the dying Florida Everglades by buying back the land, a key part of his legacy, could be on the cusp of collapsing and dealing another blow to his Senate hopes.
U.S. Sugar land needed for Everglades restoration
By Manley K. Fuller and Laurie Macdonald
Restoration of the Picayune Strand to restore natural water flows is well under way today — the first official project of the Comprehensive Everglades Restoration Plan and one of the heretofore "missing pieces" of restoration.
Loggerhead turtles need endangered label, feds say
By Steve Patterson
Florida Times-Union
After a decade-long collapse in nesting by loggerhead sea turtles in Florida, federal officials said Wednesday the ancient animals should be considered an endangered species.
Obama pushes senators for climate bill
By Matthew Daly
The Associated Press
President Barack Obama made a renewed push for a long-stalled climate and energy bill Tuesday, urging lawmakers at a White House meeting to pass a comprehensive bill this year.
Moccasin Slough cited as example of Florida Forever funding worth
By Beth Reese
Florida Times-Union
As they dedicated a new park purchased with the help of Florida Forever funding, Clay County officials and preservationists sought public support for the embattled land preservation initiative.
Bronson knocks Florida Forever after Cabinet purchase
By Bruce Ritchie
FloridaEnvironments.com
The governor and Cabinet approved the purchase of a 506-acre addition to Paynes Prairie State Preserve State Park near Gainesville and a new Florida Forever conservation land-buying list.
By Zac Anderson
Sarasota Herald-Tribune
Related:
Energy's newest hybrid model
Despite all the attention Florida has gotten for its clean energy efforts -- including President Barack Obama's recent visit to a solar plant in Arcadia -- many experts say the state's clean energy market is on the verge of collapse.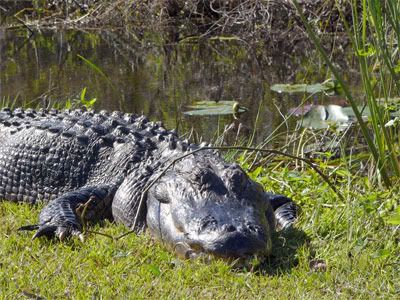 Gator in the 'Glades.
THE BIG OIL ROUNDUP
The Big Oil roundup: news and information about Big Oil's push to rig Florida's coastline for the week ending 3-12-10:
Many Florida coastal communities resolved against drilling
By Abel Harding
Florida Times-Union
ProgressFlorida.org, a progressive blog, has compiled a map that provides a visual of all the coastal communities in the state of Florida who have announced opposition to offshore drilling.
Backers of military in Florida oppose extensive drilling in Eastern Gulf
By News Service of Florida
Palm Beach Post
Military backers told a House panel in no uncertain terms Friday that any talk of oil drilling in the eastern Gulf of Mexico better not hamper military operations in the region.
US Military weighs in on offshore oil drilling
By Abel Harding
Florida Times-Union
A blog post I had made Monday morning in regards to offshore oil drilling was criticized by a reader because, in his words, I parroted a "whackadoddle view without any context or balance."
P.C. military officials give views on oil drilling
By Matt Dixon
Panama City News Herald
In testimony before a House committee Friday, officials from Naval Support Activity Panama City and the Bay Defense Alliance laid out the potential impact of oil drilling in state waters, which extend 10 miles offshore.
Military may be critical 'no oil' ally
By Michael Peltier
Naples News
Environmentalists, coastal business and tourism-related enterprises have a formidable ally in the fight against offshore drilling in the Gulf that is not normally associated with wading birds and preserving the pristine.
American Petroleum Institute says conflicts with the military can be worked out
By Dusty Ricketts
Northwest Florida Daily News
With Senate Bill 2622 filed in the Florida Legislature, drilling for oil and natural gas in the Gulf of Mexico has become one of the major issues this session.
Let's See Who Votes for Oil and Who Votes for Florida
By Dave Rauschkolb
Florida Thinks!
Florida is on the brink of decisions that could forever endanger our clean waters, our clean beaches and our valuable tourism-based economy.
Promise of drilling jobs is an empty one
By Sue Gross
Tallahassee Democrat
While offshore-drilling enthusiasts tour the state promising thousands of new jobs for Florida (20,000 rig jobs and 231,000 jobs overall), we are being bombarded by TV and print ads from "The people of America's Oil and Natural Gas Industry," which sounds so much friendlier than the American Petroleum Institute — which it actually is — made up of 400 "corporate members" of the oil industry.
South Walton County man takes fight against offshore drilling to Facebook
By Angel McCurdy
Northwest Florida Daily News
A South Walton County man has taken his opposition to drilling off Florida's coast to a new level.
Spill, Baby, Spill
By Theron Trimble
Marco Eagle
Risk analysis is composed of two elements: The probability that an event will occur; and the impact of the event if it does occur.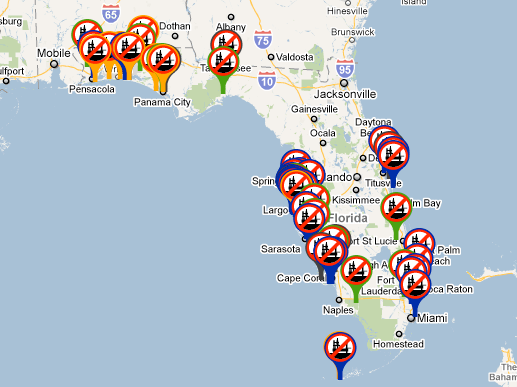 Progress Florida unveiled the "Resolved Against Drilling" map, a powerful illustration and visual reminder to lawmakers of the overwhelming opposition to legislation (SB 2622) that would end Florida's ban on oil drilling in state waters. The map shows that at least 55 cities, counties, chambers of commerce, and local agencies around the state have passed resolutions (you can view the list of resolutions here) opposing Speaker-Designate Dean Cannon's (R-Winter Park) and Senate-President Designate Mike Haridopolos's (R-Melbourne) effort to sell Florida's world famous coastline to Texas oilmen. From Key West to Pensacola, few other issues to be tackled this legislative session have met with such unified opposition from local communities. "This map demonstrates in clear terms that Floridians aren't buying the misleading claims and empty economic promises Big Oil is selling our state," said Mark Ferrulo, Executive Director of Progress Florida.
TAKE ACTION NOW
Write Your State Senator: Big Oil's Promises Are "Empty"
Big Oil and their hired hands in Tallahassee have sworn that drilling Florida's coast would be "invisible" – that there would be no unsightly rigs just a few miles off our coast. We know different – and a recent eye opening story in the
Sarasota Herald-Tribune
has proven Big Oil's promises completely "empty."
Click the picture above – keeping the pressure on by letting our State Senators know people like you are paying attention is how we'll beat Big Oil.

MORE ONLINE ACTIONS
Pass a Resolution To Protect Florida's Beaches Now, via Audubon of Florida.
Urge President Obama's Ocean Policy Task Force to recommend against offshore drilling within any previously protected coastal waters, via Defenders of Wildlife.
Tell Obama: Offshore Drilling is NOT the Answer to Energy Crisis, via Oceana.
Help Drill for Solutions Not for Oil, via Southern Alliance for Clean Energy.
Let us decide! Petition to Governor Charlie Crist, Senate President Jeff Atwater, and House Speaker Larry Cretul, via Civic Concern.
Contact Your Officials About New Drilling Off Florida's Coasts, via Civic Concern.
Ask your state legislators to keep the rigs out, via Save the Manatee Club.
Write a letter to the editor, via Audubon of Florida.
Write your state legislators, via Audubon of Florida.
Urge Senate President Jeff Atwater to oppose offshore oil drilling, via Progress Florida.
Tell Sen. Atwater Not To Allow Oil Drilling In Special Session, via Audubon of Florida.
Sign the petition against oil drilling, via Protect Florida's Beaches.
Tell Salazar: No drilling off Florida's Coast, via Environment Florida.
Tell new Senator LeMieux to Repower America, via Environment Florida.
Related action: Don't go drill crazy in the Everglades, via Center for Biological Diversity.
Related action: Keep oil drilling out of climate change legislation, via Oceana.

ADDITIONAL RESOURCES OF NOTE
Hands Across The Sand website; their Twitter page is here.
Protect Florida's Beaches, recently launched coalition website.
Protect Florida's Beaches on Facebook.
Think, Baby, Think blog via Protect Florida's Beaches.
Don't Drill Florida website.
Don't Drill Florida Facebook page.
Save Our Shores Florida website; their Twitter page is here.
Floridians Against Big Oil social network.
Save Our Shores Florida Facebook page.
Florida Coastal and Ocean Coalition website.
Environment Florida offshore drilling page.
Southern Alliance for Clean Energy offshore drilling page.
Skytruth blog, an excellent source of info.
Not the Answer blog, courtesy Surfrider Foundation.
Eye-opening map of oil and gas leases and infrastructure in Gulf of Mexico, via MMS.
EnergyFLA.com, online hub of drilling proponents; their Twitter page is here.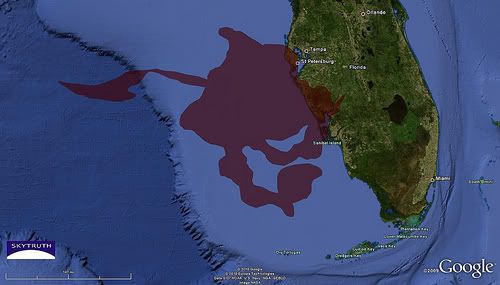 Cumulative oil slick "footprint" resulting from the 10-week Montara oil platform blowout and spill that occurred in the Timor Sea off Western Australia in 2009; superimposed on the Gulf coast of Florida for scale. More info here.
MORE GREEN NEWS
State to have trouble meeting water needs
By Ron Word
Gainesville Sun
Despite receiving more than 54 inches of rain a year and having 7,700 lakes, 50,000 miles of rivers and streams and more than 700 springs, Florida will have problems supplying enough water to satisfy the needs of its 18 million residents, a Senate committee was told Thursday.
Like Apple Pie: Everyone Wants Water
By Gina Jordan
WFSU Public Radio Tallahassee
A veteran Florida lawmaker has an idea that may help the state in a water quality dispute with the EPA. However, James Call reports farmers and septic tank owners may not like it.
Airport Built, It's Time to See if the Traffic Comes
By Susan Stellin
New York Times
The first new international airport in the United States in more than decade is set to open in May near Panama City, Fla., a community of 37,000 people on the state's panhandle.
State report raises doubts about renewable energy goals
By Bruce Ritchie
Florida Tribune
A new report analyzing the potential of Florida's forests to provide renewable energy sources could raise further doubts about proposed state goals to increase renewable energy.
State could shrink cleanup list
By Bruce Ritchie
Florida Tribune
The chairmen of key House and Senate committees have filed bills that supporters hope could lead to the removal of hundreds or thousands of low-risk petroleum contamination sites from the state's cleanup list.
Python season opens on state lands; all you need is a license and $26 permit
By Sonja Isger and David Fleshler
South Florida Sun-Sentinel
At a deserted Everglades hunting camp, Shawn Meiman creeps along a weathered boardwalk, armed with a revolver loaded with shotgun shells — powerful enough to kill something big, with a wide enough spray to allow for less-than-pinpoint accuracy.
Whooping cranes settle into life at winter home
By Susan Latham Carr
Ocala Star-Banner
In spite of the cold winter, the 10 whooping crane chicks that flew over the Dunnellon/Marion County airport following ultralight aircraft in January are faring nicely at Chassahowitzka National Wildlife Refuge.
January chill killed corals in Keys, less damage to Palm Beach County and Treasure Coast areas
By Cammy Clark
Miami Herald via Palm Beach Post
January's big chill led to widespread death of corals in many near shore and mid-channel reefs from Biscayne Bay to Summerland Key, but most of the popular offshore diving and fishing reefs in the Florida Keys were spared.
McClash, Thaxton debate Amendment 4
By Richard Dymond
Bradenton Herald
Related:
Biz group urged to fight against Amendment 4
After listening to Joe McClash and Jon Thaxton debate Hometown Democracy for an hour Tuesday night in Town Hall, an audience of 64 seemed split.
Trust the public on Amendment 4
By Diane Brown
Panama City News Herald
It is not surprising that Bay County commissioners want to stop passage of Amendment 4, a constitutional amendment on the November ballot.
Proponents, opponents of Hometown Democracy lay out pros, cons of amendment
By Katherine Albers
Naples News
Voting for it has been called a move to "put the power back into the people's hands" and "pulling the pin on a hand grenade for the state of Florida."
Even after downsizing, Crist's plan to save Everglades by buying sugar land is under siege
By Curtis Morgan
Miami Herald via Palm Beach Post
It started out so big, so bold and with so much promise for healing the River of Grass that environmentalists
South Ponte Vedra Beach plays crucial role in right whale success
By Caren Burmeister
Florida Times-Union
Three centuries of commercial whaling nearly exterminated the North Atlantic right whale that's seen off the coast of Jacksonville and Ponte Vedra Beach during the winter calving season.
Key vote nears on Crist's Everglades restoration purchase of U.S. Sugar land
By Michael C. Bender and Paul Quinlan
Palm Beach Post
It's hard to overestimate how personally important Gov. Charlie Crist considers the half-billion-dollar land deal he brokered with U.S. Sugar Corp. in the name of Everglades restoration.
Florida lawmakers wrapped up in ban on pythons and other animal legislation
By Robert Samuels
St. Petersburg Times/Miami Herald Tallahassee Bureau
As a bill banning the sale and trade of Burmese pythons and other invasive reptiles came up for a vote at a House committee hearing Wednesday, sponsor Rep. Trudi Williams made a mockingly stern request: "No hissing, members."
Extend U.S. Sugar deal deadline
Editorial
Miami Herald
Like everything involving the Everglades, the state's agreement to purchase 72,800 acres of U.S. Sugar Corp. land for $536 million has its share of champions and critics. But though it's less than perfect, the deal is worth doing.
Development threatens Econ River
Editorial
Orlando Sentinel
Consultants pushing the 5,000-home Rybolt Park development near the region's prized Econlockhatchee River say they expect a "favorable" decision on its future today from the Orange County Commission.
Killing Pythons, and Regulating Them
By The Editors
New York Times
Florida officials are stepping up efforts to deal with the python population in the Everglades, measures that include a special hunting season that begins on state lands on Monday.
On saving water
Editorial
Gainesville Sun
After nearly a half-decade of unrelenting and unwelcome pressure on local governments and utilities to pony up hundred of millions of dollars to pump Central and North Florida's lakes and rivers to meet the region's long-term water needs, the St. Johns River Water Management District is suddenly embracing a new, more economical strategy.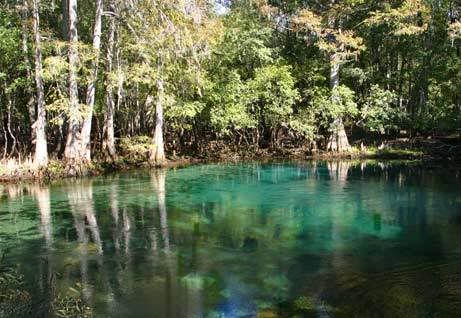 Manatee Springs.
Wildwood Preservation Society is a non-profit 501(c)(4) project of the Advocacy Consortium for the Common Good. Click here to learn more.