FEATURED STORIES
Senate bill would cut back on environmental permitting process
By John Frank and Craig Pittman
St. Petersburg Times
A little-noticed jobs bill being considered by the Legislature calls for streamlining environmental regulations to the point where some development projects of up to 40 acres wouldn't need state or local permits at all.
Renewed Support for an Everglades Land Deal, but Cost Is Still in Question
By Damien Cave
New York Times
Gov. Charlie Crist reaffirmed his commitment this week to the $536 million purchase of 73,000 acres of land from United States Sugar, declaring that it would heal both the Everglades and the coastal estuaries that are vital to Florida's tourist economy.
Florida water managers weigh cuts, selloffs to finance U.S. Sugar deal
By Curtis Morgan
Miami Herald
With the odds of borrowing a half-billion bucks growing dicey, water managers are exploring new ways to finance Gov. Charlie Crist's deal with the U.S. Sugar Corp. -- a controversial land buy the governor stood firmly behind Thursday during a South Florida visit.
Death of coral reefs could devastate nations
By Brian Skoloff
The Associated Press
Coral reefs are dying, and scientists and governments around the world are contemplating what will happen if they disappear altogether.
Fishermen, activists at loggerheads on turtle change
By Jim Waymer
Florida Today
Federal biologists say loggerhead sea turtles could go extinct in the "foreseeable future."
Truth and hysteria about Hometown Democracy
By Howard Troxler
St. Petersburg Times
A bunch of Greek guys started a political debate 2,500 years ago that we're still fighting about.
Is St. Pete Beach a valid case study for Amendment 4?
Staff Report
St. Petersburg Times Politifact
A group fighting a statewide ballot initiative that would give voters direct say on land use decisions says people need look no further than the disastrous results of a similar initiative in tiny St. Pete Beach.
Editorial
Miami Herald
Suddenly, a new strip mall turns up two blocks away from your home. What about public notices? Permit hearings? Not needed any more if the Florida Senate gets its way.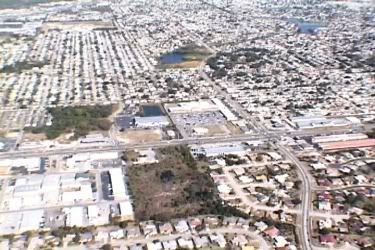 Florida sprawl – where will it end? Vote YES on Amendment 4!
THE BIG OIL ROUNDUP
The Big Oil roundup: news and information about Big Oil's push to rig Florida's coastline for the week ending 3-26-10:
Gulf drilling bill not a priority
By Michael Peltier
News Service of Florida
Related editorial: Access to federal waters may be the real goal of legislative proponents
Florida lawmakers will vote on a bill to expand oil and gas exploration in the Gulf of Mexico, but it may not be this session, a key House drilling advocate said Friday.
House will float oil-drilling bill
By Jim Ash
Tallahassee Democrat
The Florida House will roll out an oil-drilling bill in two weeks, Speaker-designate and chief proponent Dean Cannon said Friday.
Oil drilling off our shores: Dean Cannon, we've come to know ye
By Cathy Harrelson
Creative Loafing Tampa
After concluding the House's final workshop on the exploration of oil and gas drilling off Florida coasts on Friday, Rep. Dean Cannon (R-Winter Park) outlined three areas he expects the House bill to include when it is released in two weeks.
A New Report Outlines How Much Oil Is In Florida Waters Off The Gulf Of Mexico (audio interview)
By Robert Lorei
WMNF Community Radio Tampa
Next up- Frank Alcock is a professor of political science at New College in Sarasota. He teaches about, among other things, sustainable development.
On The Mark - Oil and tourism: Not a good mix
By Mark Strain
Naples News
It is surprising how quickly some Floridians are willing to reduce their standards if there's money involved.
Commission dumps drilling resolution
Staff Report
St. Augustine Record
A city resolution Monday night to add St. Augustine to a long list of cities and counties opposing offshore oil drilling failed for lack of support.
Offshore Drilling Revenue Sharing Takes Hold in Senate Climate Bill
By Mike Soraghan, Darren Samuelsohn and Katherine Ling
New York Times
Coastal states that agree to oil and gas drilling off their shores would be offered one-quarter of the revenue, under the latest draft of the new climate and energy bill, sources on and off the Hill say.
10 Senate Democrats oppose climate bill if it expands coastal drilling
By Renee Schoof
Miami Herald
Ten Senate Democrats from coastal states warned in a letter released Thursday that they won't support a climate and energy bill if it permits a big expansion of drilling for offshore oil and natural gas.
Florida should forget about drilling in gulf
Editorial
St. Petersburg Times
Drilling off Florida's coast won't increase America's independence from foreign oil, lower gasoline prices or raise billions of dollars annually for the state.
Editorial
Pensacola News Journal
Listening to the U.S. Navy has always paid off for Northwest Florida, where our economy has been buffered from the worst of the recession by stable military spending.
TAKE ACTION NOW
Write Your State Senator: Big Oil's Promises Are "Empty"
Big Oil and their hired hands in Tallahassee have sworn that drilling Florida's coast would be "invisible" – that there would be no unsightly rigs just a few miles off our coast. We know different – and a recent eye opening story in the
Sarasota Herald-Tribune
has proven Big Oil's promises completely "empty."
Click the picture above – keeping the pressure on by letting our State Senators know people like you are paying attention is how we'll beat Big Oil.

MORE ONLINE ACTIONS
Pass a Resolution To Protect Florida's Beaches Now, via Audubon of Florida.
Urge President Obama's Ocean Policy Task Force to recommend against offshore drilling within any previously protected coastal waters, via Defenders of Wildlife.
Tell Obama: Offshore Drilling is NOT the Answer to Energy Crisis, via Oceana.
Help Drill for Solutions Not for Oil, via Southern Alliance for Clean Energy.
Let us decide! Petition to Governor Charlie Crist, Senate President Jeff Atwater, and House Speaker Larry Cretul, via Civic Concern.
Contact Your Officials About New Drilling Off Florida's Coasts, via Civic Concern.
Ask your state legislators to keep the rigs out, via Save the Manatee Club.
Write a letter to the editor, via Audubon of Florida.
Write your state legislators, via Audubon of Florida.
Urge Senate President Jeff Atwater to oppose offshore oil drilling, via Progress Florida.
Tell Sen. Atwater Not To Allow Oil Drilling In Special Session, via Audubon of Florida.
Sign the petition against oil drilling, via Protect Florida's Beaches.
Tell Salazar: No drilling off Florida's Coast, via Environment Florida.
Tell new Senator LeMieux to Repower America, via Environment Florida.
Related action: Don't go drill crazy in the Everglades, via Center for Biological Diversity.
Related action: Keep oil drilling out of climate change legislation, via Oceana.

ADDITIONAL RESOURCES OF NOTE
Hands Across The Sand website; their Twitter page is here.
Protect Florida's Beaches, recently launched coalition website.
Protect Florida's Beaches on Facebook.
Think, Baby, Think blog via Protect Florida's Beaches.
Don't Drill Florida website.
Don't Drill Florida Facebook page.
Save Our Shores Florida website; their Twitter page is here.
Floridians Against Big Oil social network.
Save Our Shores Florida Facebook page.
Florida Coastal and Ocean Coalition website.
Environment Florida offshore drilling page.
Southern Alliance for Clean Energy offshore drilling page.
Skytruth blog, an excellent source of info.
Not the Answer blog, courtesy Surfrider Foundation.
Eye-opening map of oil and gas leases and infrastructure in Gulf of Mexico, via MMS.
EnergyFLA.com, online hub of drilling proponents; their Twitter page is here.
MORE GREEN NEWS
The future of water availability and desalination in Florida
By Sean Kinane
WMNF Community Radio Tampa
Yesterday was World Water Day.
New EPA rules label a dozen more Collier, Lee waterways as polluted, analysis shows
By Eric Staats
Naples News
More Southwest Florida streams and canals would violate water quality standards under a proposal by the U.S. Environmental Protection Agency to limit pollution in Florida waters, according to a Naples Daily News analysis.
State spending $650,000 for sensors to alert U.S. 41 drivers panthers may be near
By Eric Staats
Naples News
As U.S. 41 runs through the Big Cypress National Preserve, the rural highway crosses a natural pathway that is a favorite route for endangered Florida panthers – with deadly results.
Damage, restoration of Florida waters discussed by authors
By Bruce Ritchie
FloridaEnvironments.com
Florida needs to change the way it manages and uses water in the future as it repairs the mistakes of the past, a panel of environmental book authors suggested on Saturday.
With growth management vote coming, St. Johns has become focal point
By David Hunt
Florida Times-Union
In the debate over Florida growth management, a spotlight is shining on St. Johns County.
Amendment 4 forum … the short form
By Scott Maxwell
Orlando Sentinel
In today's edition of the Friday Files, we take a look at which politician took a free trip to Las Vegas, which one recently put himself up for bid and which one seems to be suffering from a bout of selective amnesia.
Helping Amendment 4: Interests that oppose it just don't learn
By Joel Engelhardt
Palm Beach Post
Hometown Democracy recognizes that, too often in Florida, the balance falls on the side of the powerful interests.
Bald eagles, plastic bags don't mix - especially in Bonita Springs
By Tara E. McLaughlin
Naples News
The bald eagle, a symbol of the United States, has become for some in Bonita Springs a reason to oppose plastic grocery bags.
Endangered whale birth photos taken near Navy site
By Russ Bynum
The Associated Press
Biologists conducting a survey for the U.S. military said Tuesday they photographed an endangered right whale giving birth near a proposed Navy training range offshore of Georgia and Florida.
Area mayors agree: Cities must cooperate to avoid water crisis
By Bob Koslow
Daytona Beach News-Journal
Having enough water at reasonable rates and economic development to provide quality jobs emerged as the priorities for the six mayors of west Volusia County gathered Thursday night at Stetson University.
Federal ban on python imports would hurt pet trade, critics say
By William E. Gibson
South Florida Sun-Sentinel
A proposed ban on the sale and importation of pythons and other constrictive snakes threatens the livelihood of thousands of pet shops and breeders, Congress was told on Tuesday.
"Jobs" bill really eases limits on growth
Editorial
St. Petersburg Times
When Gov. Charlie Crist caved in to developers last year and eviscerated Florida's growth management laws, he pledged to push the Legislature this year to create a new fee to help pay for roads to accommodate new development.
Editorial
Tampa Tribune
Last session, Florida Department of Community Affairs Secretary Tom Pelham was able to fend off insidious efforts to either abolish the growth management agency or pare its scope.
Editorial cartoon by Jim Morin, Miami Herald
Wildwood Preservation Society is a non-profit 501(c)(4) project of the Advocacy Consortium for the Common Good. Click here to learn more.
"it's all connected"