FEATURED STORIES
Crist links jobs, environment during Florida Forever rally
By Bruce Ritchie
FloridaEnvironments.com
Related:
Top 10 at-risk land purchase areas listed
Gov. Charlie Crist on Wednesday told a rally at the Capitol that the state's land-buying program is critical to the Florida's tourism economy.
Opportunity Knocks For FL Preservation
By Glen Gardner
Public News Service Florida
Those hoping to preserve quickly-vanishing wildlife habitat in Florida will be delivering a message at the State Capitol Wednesday, centering on the Forever Florida program, which is the largest land-buying program in the country.
Florida Supreme Court raises its own questions about Everglades land deal
By Andy Reid
South Florida Sun-Sentinel
Related: Everglades land deals and Big Sugar battles head to Florida Supreme Court
After nearly two years of political fights and legal battles over Gov. Charlie Crist's Everglades-restoration land deal, the Florida Supreme Court now will decide whether the public benefit is worth the cost to South Florida taxpayers.
Momentum for renewable-energy legislation lacking
By Mary Ellen Klas
St. Petersburg Times/Miami Herald Tallahassee Bureau
In the last legislative session before his death, state Sen. Jim King tirelessly pushed for an energy compromise to reduce the amount of dirty fuel the state uses to produce electricity.
Committee bill would remove climate change language in state law
By Bruce Ritchie
FloridaEnvironments.com
A proposed energy bill filed Wednesday by the House Energy & Utilities Committee appears to remove language in state law that addresses climate change and requires utilities to increase the amount of renewable energy they provide to customers.
Water bill squeaks out of committee amid opposition
By Bruce Ritchie
FloridaEnvironments.com
SB 550, dubbed the "mega-water bill" that includes springs protection measures, barely passed a Senate committee on Tuesday after development groups raised concerns about its septic tank requirements.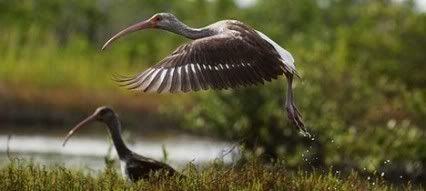 Endangered wood storks.
THE BIG OIL ROUNDUP
The Big Oil roundup: news and information about Big Oil's push to rig Florida's coastline for the week ending 4-9-10:
160-Square-Mile Oil Spill Fouls Mississippi Delta Wildlife Refuge
Staff Report
Environment News Service
An 18,000 gallon spill of crude oil from a pipeline into the Delta National Wildlife Refuge has personnel from the U.S. Coast Guard, the state of Louisiana, and the Cypress Pipe Line Company scrambling to contain the spreading mess.
Thousands of gallons of crude oil spill into Louisiana wildlife refuge
By Niki Fears
Environmental News Examiner
The Delta National Wildlife Refuge in Louisiana is currently under threat from a recent pipe line disaster that has spilled at least 18,000 gallons of deadly crude oil into the waters of the wildlife refuge.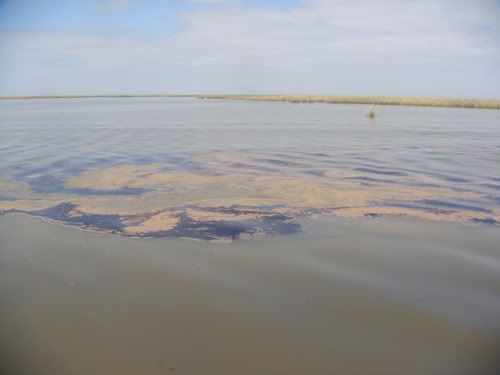 Spilled crude oil encroaching on Delta National Wildlife Refuge on the Louisiana coast.

We want this here?
Obama Plan May Revive Offshore Oil
By Lloyd Dunkelberger
Lakeland Ledger
While it appeared a House Republican plan to open state waters to oil and gas exploration was not likely to happen this year, the proposal got an unexpected boost from a leading Democrat.
Obama's Offshore Drilling Pitch Sways Few Fence-Sitters on Climate Bill
By Mike Soraghan
New York Times
It's often said in Washington that if you anger both liberals and conservatives, you must be doing something right.
No-take fishing zone is 30 miles from proposed drilling buffer
By Kevin Wadlow
Florida Keys Keynoter
"This could come very close to the Dry Tortugas," said Mark Ferrulo, executive director of Progress Florida. "In terms of distance to the Keys, this is nothing."
Risks to Florida outweigh benefits of gulf drilling
By Paul Defenderefer
Panama City News Herald
I am deeply concerned about the possibility of oil drilling off Florida's coastline.
Buchanan firm in drilling opposition
By Jeremy Wallace
Sarasota Herald-Tribune
U.S. Rep. Vern Buchanan is not budging in his opposition to oil drilling off Florida's Gulf Coast.
PolitiFact: Stearns' claim about Chinese oil drilling in Gulf of Mexico is half true
By Aaron Sharockman
St. Petersburg Times/Miami Herald Politifact
Longtime U.S. Rep. Cliff Stearns, a proponent of increased oil and natural gas exploration in the Gulf of Mexico, says drilling may be coming near Florida's shores whether we like it or not.
Obama lost me when he proposed oil drilling in the gulf
By Ernest Hooper
St. Petersburg Times
After President Barack Obama lauded my grandmother on election night, my wife theorized I would never criticize him.
Three Florida Democrats oppose offshore drilling
By Lesley Clark
Miami Herald
Related:
White House says it will listen to Florida drilling critics
Florida Democrats have sent letters to President Barack Obama, protesting his plans to expand oil and gas drilling as close as 125 miles off Florida's coast.
Democrats from Florida oppose Obama's drilling plan
By Jim Turner
TC Palm
U.S. Rep. Alcee Hastings, D-Miramar, and two other Florida Democratic members of Congress, have sent a letter to President Obama objecting to his plans to allow drilling off the state's coastline.
Off-coast drilling threatens Florida economy and jobs
By Rep. Kathy Castor
The Hill
Drilling for oil off of Florida's west coast beaches would be a serious threat to Florida's economy and jobs.
PRO AND CON: Energy independence or slaves to Big Oil?
By David Batt and Dave Rauschkolb
Destin Log
Florida is on the brink of decisions that could forever endanger our clean waters, our clean beaches and our valuable tourism-based economy.
Offshore Drilling and Florida's Gulf: How Much Oil Is There?
By Scott Finn
WUSF Public Radio Tampa
In the long-running debate over offshore drilling in the Gulf of Mexico, one question always comes up: how much oil and gas is really out there?
Castor says Florida 'too special' for offshore oil drilling
By Alex Leary
St. Petersburg Times
U.S. Rep. Kathy Castor, D-Tampa, today sent a letter to President Obama objecting to his plan for more offshore oil drilling in Florida, saying the area is "too special" to risk environmental damage.
FRLA opposes oil exploration
By Carol Dover
Tampa Bay News Weekly
The Florida Restaurant and Lodging Association is closely monitoring legislation filed by both the Florida Senate and the Florida House of Representatives on the issue of oil and gas exploration in the Gulf of Mexico.
Look at drilling's cost
By Walter C. Brown III
Daytona Beach News-Journal
From the standpoint of someone that has worked on oil-field supply vessels, it is not the platforms that worry me as much as the support systems that are needed onshore: The fuel docks, the storage facilities for drill-pipe, drill mud, etc.
Humans are the risk in drilling
Editorial
Pensacola News Journal
Related editorial: Drilling plan a loser
The Orlando Sentinel recently took a close look at the Australian drilling rig that blew out last August in the Timor Sea, leaked oil for more than two months and dumped millions of gallons of crude.

It's a cautionary tale for Florida.
Drilling in Gulf makes no sense
Editorial
Highlands County News Sun
The debate over off-shore drilling is a real concern for Florida, especially since tourists flock here for a view of the beaches, not the oil rigs.
Editorial
Florida Today
The 72 miles of coast where Brevard County meets the sea is the heart of our community's quality of life.
Map of areas to be opened for offshore oil and gas exploration and drilling under newly unveiled Obama administration proposal.
TAKE ACTION NOW
Write Your State Senator: Big Oil's Promises Are "Empty"
Big Oil and their hired hands in Tallahassee have sworn that drilling Florida's coast would be "invisible" – that there would be no unsightly rigs just a few miles off our coast. We know different – and a recent eye opening story in the
Sarasota Herald-Tribune
has proven Big Oil's promises completely "empty."
Click the picture above – keeping the pressure on by letting our State Senators know people like you are paying attention is how we'll beat Big Oil.

ACTIONS OPPOSING OBAMA'S DRILLING PLAN
President Obama, Drilling Is Not the Answer, via Friends of the Earth.
Tell President Obama You Oppose Offshore Oil Drilling, via Endangered Species Coalition.
Don't Sacrifice the Oceans in the Name of Climate Change, via Oceana.
MORE ONLINE ACTIONS
Pass a Resolution To Protect Florida's Beaches Now, via Audubon of Florida.
Urge President Obama's Ocean Policy Task Force to recommend against offshore drilling within any previously protected coastal waters, via Defenders of Wildlife.
Tell Obama: Offshore Drilling is NOT the Answer to Energy Crisis, via Oceana.
Help Drill for Solutions Not for Oil, via Southern Alliance for Clean Energy.
Let us decide! Petition to Governor Charlie Crist, Senate President Jeff Atwater, and House Speaker Larry Cretul, via Civic Concern.
Contact Your Officials About New Drilling Off Florida's Coasts, via Civic Concern.
Ask your state legislators to keep the rigs out, via Save the Manatee Club.
Write a letter to the editor, via Audubon of Florida.
Write your state legislators, via Audubon of Florida.
Urge Senate President Jeff Atwater to oppose offshore oil drilling, via Progress Florida.
Tell Sen. Atwater Not To Allow Oil Drilling In Special Session, via Audubon of Florida.
Sign the petition against oil drilling, via Protect Florida's Beaches.
Tell Salazar: No drilling off Florida's Coast, via Environment Florida.
Tell new Senator LeMieux to Repower America, via Environment Florida.
Related action: Don't go drill crazy in the Everglades, via Center for Biological Diversity.
Related action: Keep oil drilling out of climate change legislation, via Oceana.

ADDITIONAL RESOURCES OF NOTE
Hands Across The Sand website; their Twitter page is here.
Protect Florida's Beaches, recently launched coalition website.
Protect Florida's Beaches on Facebook.
Think, Baby, Think blog via Protect Florida's Beaches.
Don't Drill Florida website.
Don't Drill Florida Facebook page.
Save Our Shores Florida website; their Twitter page is here.
Floridians Against Big Oil social network.
Save Our Shores Florida Facebook page.
Florida Coastal and Ocean Coalition website.
Environment Florida offshore drilling page.
Southern Alliance for Clean Energy offshore drilling page.
Skytruth blog, an excellent source of info.
Not the Answer blog, courtesy Surfrider Foundation.
Eye-opening map of oil and gas leases and infrastructure in Gulf of Mexico, via MMS.
EnergyFLA.com, online hub of drilling proponents; their Twitter page is here.
MORE GREEN NEWS
Concern raised over nuclear waste storage at Turkey Point
By John Dorschner
Miami Herald
The Nuclear Regulatory Commission has called a special meeting next week to discuss three apparent violations involving a spent-fuel pool at Turkey Point -- a critical issue as the long-held plans for storing waste in Nevada have collapsed.
Sugar deal's sour politics; biggest critic has self-interest at heart
By Joel Engelhardt
Palm Beach Post
In 2008, before Florida Crystals began to criticize the U.S. Sugar land deal, the company offered to be part of it.
Groups ask DEP to delay new waterway classification
By Bruce Ritchie
FloridaEnvironments.com
Environmental groups are asking the Florida Department of Environmental Protection to delay approval of a new stream classification system.
Key chairman says there is still time for DCA
By Bruce Ritchie
FloridaEnvironments.com
The chairman of a key House council said Tuesday there is plenty of time in the legislative session to approve a bill that would reauthorize the Florida Department of Community Affairs.
Rare photo shows mother Florida panther and two kittens
Submitted by U.S. Fish & Wildlife Service
Naples News
A rare photograph taken last month of a Florida panther and her two kittens is making the e-mail rounds among wildlife biologists and conservation partners who have toiled for decades to restore the big cat's habitat.
By Wayne T. Price
Florida Today
The solar energy center at the Kennedy Space Center could -- and should -- be one of many throughout Florida, Florida Power & Light President and Chief Executive Officer Armando Olivera said Thursday.
Not an Everglades setback: Judge leaves room for U.S. Sugar deal to proceed
Editorial
Palm Beach Post
U.S. District Judge Federico Moreno seemingly dealt a significant setback to Gov. Crist's plan to buy U.S. Sugar land for Everglades restoration.
Editorial
Palm Beach Post
Developers believe it's too hard to exploit Florida's natural resources to build whatever they want.
Critically endangered Florida Panther and cubs.
Wildwood Preservation Society is a non-profit 501(c)(4) project of the Advocacy Consortium for the Common Good. Click here to learn more.
"it's all connected"