FEATURED STORIES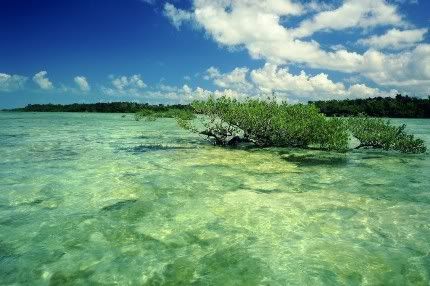 In the Florida Keys.
U.S. judge says EPA fails to protect Everglades from pollution
By Christine Stapleton
Palm Beach Post
A frustrated federal judge ordered the head of the U.S. Environmental Protection Agency to appear in a Miami courtroom in October to explain how the agency will enforce the Clean Water Act in the Everglades after "failure to comply with the law for more than two decades."
EPA Proposing Taking Over Monitoring State Waterways
By Steve Newborn
WUSF Public Radio Tampa
The federal Environmental Protection Agency is proposing to take over monitoring the quality of the state's waters from Tallahassee. The public got a chance to weigh in today during a hearing held in Tampa.
By Steve Newborn
WUSF Public Radio Tampa
We're at the midway point in the legislative session in Tallahassee, and one of the programs whose future is in doubt is the state's pioneering land-buying program, Florida Forever.
DEP holds hearings on ranking land projects
By Bruce Ritchie
FloridaEnvironments.com
With more than 100 land-buying projects facing a review and ranking by the state, the Florida Department of Environmental Protection is encouraging project supporters to participate in a pair of public hearings over the next four weeks.
Twenty-year-old deadline extended by bill amendment
By Bruce Ritchie
FloridaEnvironments.com
A petroleum tanks cleanup bill in the House has been amended to extend the deadline for tank site owners to replace older tanks that could leak.
"Hometown Democracy" opponents raise nearly $1 million
By Bruce Ritchie
FloridaEnvironments.com
The new group opposing Amendment 4, the "Florida Hometown Democracy" amendment to the Florida Constitution, raised nearly $1 million in its first quarter of existence with most of its contributions coming from business and development interests.
Heard endorses Amendment 4 on land use changes at Martin County rally
By George Andreassi
TC Palm
Martin County Commissioner Sarah Heard endorsed Amendment 4 Tuesday during a rally for the ballot initiative that would require voters to approve all land use changes.
Legislators must pass energy bill
Editorial
Ft. Myers News-Press
Floridians who care about jobs, economic diversity, clean alternative energy development and government that works should be raising hell with lawmakers.
Don't widen loophole for developers to exploit
Editorial
Orlando Sentinel
Even as they struggle to balance Florida's budget, state lawmakers seem poised to expand a property-tax break that'll make it harder for local governments to pay for basic services such as schools, roads and police
THE BIG OIL ROUNDUP
The Big Oil roundup: news and information about Big Oil's push to rig Florida's coastline for the week ending 4-16-10:
Sponsor drops Fla. offshore drilling plan for now
By Bill Kaczor
The Associated Press
The House sponsor of legislation that would lift a ban on offshore drilling in Florida's state waters said Friday he was dropping the effort for this year but would try again in 2011
Proposal to drill for oil off Florida's coast tabled for 2010 legislative session
By Eric Staats
Naples News
A Florida House panel has tabled a measure that would open the state's coastal waters to oil drilling, effectively killing the proposal for this year but teeing up another run at the issue in 2011.
Draft oil drilling legislation would direct Cabinet to sell leases
By Bruce Ritchie
FloridaEnvironments.com
A draft proposed House council bill would open Florida's waters to oil drilling but would ban permanent rigs and platforms above the water's surface within six miles of the coast.
Florida House Republicans to unveil plan for drilling in Gulf
By Jeremy Wallace
Sarasota Herald-Tribune
With two weeks remaining in the annual Florida Legislature session, House Republicans are expected to unveil a plan today that would give the governor and the Cabinet authority to allow oil drilling rigs six miles from Florida's coastline.
Oil leak in Gulf clouds Florida drilling proposals
By William Gibson
South Florida Sun-Sentinel
Excerpt: "As this latest Gulf oil spill tragically illustrates, it's not a matter of if but when such a spill will happen along Florida's coast if Dean Cannon gets his way," said Mark Ferrulo, executive director of Progress Florida and a long-time opponent of offshore drilling.
By Ron Cunningham
Gainesville Sun
Excerpt: "Introducing a bill to allow oil drilling in our near shore waters in the midst of Louisiana's ongoing oil spill clean-up is a twisted bit of irony that should be lost on no one…," says Mark Ferrulo, director of the anti-drilling group Progress Florida.
Louisiana oil spill cited by drilling opponents in Florida
By Bruce Ritchie
FloridaEnvironments.com
Environmentalists are pointing to an oil spill this week in Louisiana as evidence the state and federal governments should not allow more offshore oil drilling.
Why Off-Shore Oil Drilling is so bad for Florida
By Gimleteye
Eye On Miami
Recently I flew to Dallas on a blue bird day. After crossing the Florida peninsula-- over the lands owned by Big Sugar that deform Florida politics-- I had a crystal view over the Gulf of Mexico why off-shore oil drilling is such a bad idea for the state.
Nelson wants Robert Gates to weigh in on oil drilling, military concerns
By Alex Leary
St. Petersburg Times Buzz Blog
Sen. Bill Nelson has asked Defense Secretary Robert M. Gates to offer his view on the administration's plan to expand oil drilling in the Gulf of Mexico.
Offshore drilling endangers Florida's future
By Jason Lawrence
The Famuan
President Obama announced a new energy plan March 31 that would extend offshore drilling in 167 million acres of water from the Mid-Atlantic to waters just southeast of Jacksonville.
County affirms stance against oil drilling
By Carl Mario Nudi
Bradenton Herald
The Manatee County Commission reiterated Tuesday its opposition to oil drilling in the Gulf of Mexico, adding federal waters to their concerns.
Full Text of Manatee County's "No Offshore Drilling" Resolution and Letter to Our Federal Reps
By Robin Miller
Bradenton Times
Manatee County Information Outreach Coordinator Nicholas Azzara says, "In the fall, Manatee County and each municipality sent a joint letter of opposition, specifically to drilling in state waters of the Gulf of Mexico.
Four good reasons not to drill
By Jerry W. Gerde
Panama City News Herald
Following up The News Herald's thoughtful editorial about offshore oil drilling ("Move offshore slowly," April 4), there are four more seldom-discussed reasons not to drill in the federal waters anywhere in the eastern Gulf south of our Florida Panhandle.
Editorial
Gainesville Sun
President Barack Obama's proposal to expand offshore oil and gas drilling shows a disappointing lack of foresight and creativity toward meeting our nation's future energy needs.
Map of areas to be opened for offshore oil and gas exploration and drilling under newly unveiled Obama administration proposal.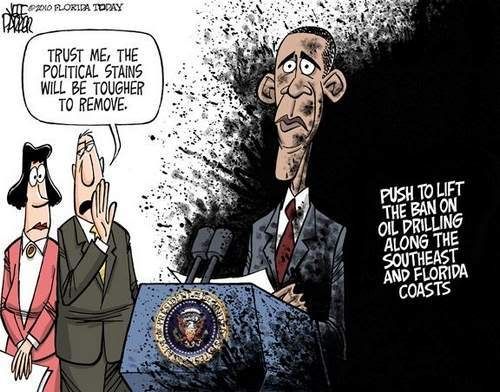 TAKE ACTION NOW
Write Your State Senator: Big Oil's Promises Are "Empty"
Big Oil and their hired hands in Tallahassee have sworn that drilling Florida's coast would be "invisible" – that there would be no unsightly rigs just a few miles off our coast. We know different – and a recent eye opening story in the
Sarasota Herald-Tribune
has proven Big Oil's promises completely "empty."
Click the picture above – keeping the pressure on by letting our State Senators know people like you are paying attention is how we'll beat Big Oil.

ACTIONS OPPOSING OBAMA'S DRILLING PLAN
President Obama, Drilling Is Not the Answer, via Friends of the Earth.
Tell President Obama You Oppose Offshore Oil Drilling, via Endangered Species Coalition.
Don't Sacrifice the Oceans in the Name of Climate Change, via Oceana.Demand that President Obama protect our oceans from oil drilling, via Center for Biological Diversity.

MORE ONLINE ACTIONS
Oppose Oil and Gas Drilling in Florida's Waters, via Audubon of Florida.
Protect our oceans from offshore oil drilling, via Oceana.
Pass a Resolution To Protect Florida's Beaches Now, via Audubon of Florida.
Urge President Obama's Ocean Policy Task Force to recommend against offshore drilling within any previously protected coastal waters, via Defenders of Wildlife.
Tell Obama: Offshore Drilling is NOT the Answer to Energy Crisis, via Oceana.
Help Drill for Solutions Not for Oil, via Southern Alliance for Clean Energy.
Let us decide! Petition to Governor Charlie Crist, Senate President Jeff Atwater, and House Speaker Larry Cretul, via Civic Concern.
Contact Your Officials About New Drilling Off Florida's Coasts, via Civic Concern.
Ask your state legislators to keep the rigs out, via Save the Manatee Club.
Write a letter to the editor, via Audubon of Florida.
Write your state legislators, via Audubon of Florida.
Urge Senate President Jeff Atwater to oppose offshore oil drilling, via Progress Florida.
Tell Sen. Atwater Not To Allow Oil Drilling In Special Session, via Audubon of Florida.
Sign the petition against oil drilling, via Protect Florida's Beaches.
Tell Salazar: No drilling off Florida's Coast, via Environment Florida.
Tell new Senator LeMieux to Repower America, via Environment Florida.
Related action: Don't go drill crazy in the Everglades, via Center for Biological Diversity.
Related action: Keep oil drilling out of climate change legislation, via Oceana.

ADDITIONAL RESOURCES OF NOTE
Hands Across The Sand website; their Twitter page is here.
Protect Florida's Beaches, recently launched coalition website.
Protect Florida's Beaches on Facebook.
Think, Baby, Think blog via Protect Florida's Beaches.
Don't Drill Florida website.
Don't Drill Florida Facebook page.
Save Our Shores Florida website; their Twitter page is here.
Floridians Against Big Oil social network.
Save Our Shores Florida Facebook page.
Florida Coastal and Ocean Coalition website.
Environment Florida offshore drilling page.
Southern Alliance for Clean Energy offshore drilling page.
Skytruth blog, an excellent source of info.
Not the Answer blog, courtesy Surfrider Foundation.
Eye-opening map of oil and gas leases and infrastructure in Gulf of Mexico, via MMS.
EnergyFLA.com, online hub of drilling proponents; their Twitter page is here.
MORE GREEN NEWS
House energy bill gets initial committee approval
By Bruce Ritchie
Florida Environments.com
Related:
Follow the Sun? House wants to encourage use of renewable energy
A proposed House committee bill that attempts to expand the use of renewable energy in the state received initial approval Friday from the House Energy & Utilities Policy Committee.
Weird winter weather creates struggle for some Everglades wildlife, other species thrive
By Eric Staats
Naples News
The water tables have turned at Corkscrew Swamp Sanctuary this winter.
Water crunch could come early to parts of First Coast
By Steve Patterson
Florida Times-Union
The little spring-fed creek behind Robert Palmatier's home ties his neighborhood together. Kids play there, adults sit on benches by the water and last year some families got together to scoop out sand and keep the channel clear.
Moving tortoises to cost Titusville $102K
By Dave Berman
Florida Today
The city council on Tuesday unanimously approved paying $102,100 to relocate 60 gopher tortoises found at the site of a water transmission main construction project -- or more than $1,700 per tortoise.
Wildwood Preservation Society is a non-profit 501(c)(4) project of the Advocacy Consortium for the Common Good. Click
here
to learn more.
"it's all connected"