FEATURED STORIES
The critically endangered Florida panther: dead cat walking.
Dead cat walking: As Florida panther habitat shrinks, extinction fears rise
By Craig Pittman
St. Petersburg Times
Related: Saga of Florida panther is 'sordid story'
Related multimedia:
Florida panther: dead cat walking
On a quiet spring morning two years ago, a sheriff's deputy cruised along a dark suburban street near Fort Myers. The deputy heard a thump, slammed on the brakes.
Enviro Groups' Petition Seeks Protection for 404 Aquatic Plants, Animals in Southeast
By Patrick Reis
New York Times
Environmental groups have petitioned the Obama administration to add 404 species from rivers in the southeastern United States to the Endangered Species List.
Finishing line: Environmental groups don't have much to cheer about this year
By Bruce Ritchie
Florida Tribune
Related: Outlook for environmental and energy issues
Audubon of Florida Executive Director Eric Draper already is thinking about the Legislature next year and he's not excited about it.
House agrees to provide funding for land-buying program
By Bruce Ritchie
FloridaEnvironments.com
Related:
House budget proposal includes Everglades, not Florida Forever
The House agreed Tuesday to provide money for Florida Forever, ending a year-long funding drought for the state land-buying program.
Commission proposes limited commercial whale hunts
By Mari Yamaguchi
The Associated Press
Japan cautiously welcomed an International Whaling Commission proposal Friday that would effectively allow the resumption of commercial whaling for the first time in 25 years — though under strict quotas that the commission argues will reduce the global catch of the mammals.
THE BIG OIL ROUNDUP
he Big Oil roundup: news and information about Big Oil's push to rig Florida's coastline for the week ending 4-24-10:
Offshore oil-rig disaster concerns Fla. lawmakers
By Bill Cotterell
Tallahassee Democrat
Related AP story: Oil rig blast prompts environmental concerns
The flaming collapse of an offshore oil rig near Louisiana is having an impact on the perennial coastal oil-drilling issue in the Florida Legislature.
We don't want an oil rig disaster here
Editorial
St. Petersburg Times
The events this week on Deepwater Horizon oil rig, about 50 miles off Louisiana in the Gulf of Mexico, should scuttle for good talk of lifting drilling bans in state and federal waters off Florida's coast.
See? Keep the rigs far away: Explosion in the gulf should be warning to Florida
Editorial
Palm Beach Post
Last week's explosion of an oil rig off the Louisiana coast undercuts every argument in favor of allowing oil and natural gas drilling much closer to the Florida coast.
Oil drilling comes up empty this year
By Bruce Ritchie
Florida Tribune
Legislation to allow drilling in state waters won't be voted on by the House this year, Rep. Dean Cannon on Friday told the House Select Policy Council on Strategic & Economic Planning.
Gulf of Mexico - Damage to Oil and Gas Infrastructure From Hurricane Katrina
Staff Report
SkyTruth
Hurricane Katrina Oil Slicks - September 2, 2005
Senators oppose giving offshore-drilling money to states
By William Gibson
South Florida Sun-Sentinel
Three key senators have warned their colleagues not to consider sharing revenue from offshore oil drilling with states like Florida or Louisiana.
State Sen. Paula Dockery says state constitution bans oil drilling off Fla. Coast
By Carol Rosenberg
St. Petersburg Times/Miami Herald Politifact
Excerpt:
Rather, the experts told us that the fate of near-offshore drilling is in the hands of the Florida Legislature, which in the 1980s adopted a ban in state waters. It was passed "in the wake of the Exxon-Valdez spill by the Florida Legislature" and designed to protect their coastal waters, said Mark Ferrulo, executive director of Progress Florida, a drilling opponent.
Destin 'disappointed' in Obama drilling proposal
By Tosha Sketo
Destin Log
President Barack Obama's recent oil and gas drilling proposal has been met with mixed reactions nationally, but in Destin the opposition to the proposal was clear.
Atlantic oil search hearing draws skeptics, boosters
By Steve Patterson
Florida Times-Union
Some of the first public discussions in decades about oil and gas exploration off Florida's Atlantic coast opened Wednesday in Jacksonville with a small crowd that saw a lot at stake.
A fiery end to Florida's drilling bill
Editorial
Northwest Florida Daily News
The biggest surprise of Florida's current legislative session is that a wild 'n' woolly fight over near-shore drilling, a fight that just about everyone expected, never happened.
Map of areas to be opened for offshore oil and gas exploration and drilling under newly unveiled Obama administration proposal.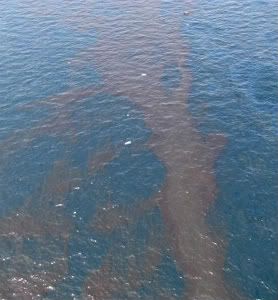 April 23, 2010 oil slick in Gulf of Mexico following fatal rig explosion.
TAKE ACTION NOW
Write Your State Senator: Big Oil's Promises Are "Empty"
Big Oil and their hired hands in Tallahassee have sworn that drilling Florida's coast would be "invisible" – that there would be no unsightly rigs just a few miles off our coast. We know different – and a recent eye opening story in the
Sarasota Herald-Tribune
has proven Big Oil's promises completely "empty."
Click the picture above – keeping the pressure on by letting our State Senators know people like you are paying attention is how we'll beat Big Oil.

ACTIONS OPPOSING OBAMA'S DRILLING PLAN
President Obama, Drilling Is Not the Answer, via Friends of the Earth.
Tell President Obama You Oppose Offshore Oil Drilling, via Endangered Species Coalition.
Don't Sacrifice the Oceans in the Name of Climate Change, via Oceana.Demand that President Obama protect our oceans from oil drilling, via Center for Biological Diversity.

MORE ONLINE ACTIONS
Oppose Oil and Gas Drilling in Florida's Waters, via Audubon of Florida.
Protect our oceans from offshore oil drilling, via Oceana.
Pass a Resolution To Protect Florida's Beaches Now, via Audubon of Florida.
Urge President Obama's Ocean Policy Task Force to recommend against offshore drilling within any previously protected coastal waters, via Defenders of Wildlife.
Tell Obama: Offshore Drilling is NOT the Answer to Energy Crisis, via Oceana.
Help Drill for Solutions Not for Oil, via Southern Alliance for Clean Energy.
Let us decide! Petition to Governor Charlie Crist, Senate President Jeff Atwater, and House Speaker Larry Cretul, via Civic Concern.
Contact Your Officials About New Drilling Off Florida's Coasts, via Civic Concern.
Ask your state legislators to keep the rigs out, via Save the Manatee Club.
Write a letter to the editor, via Audubon of Florida.
Write your state legislators, via Audubon of Florida.
Urge Senate President Jeff Atwater to oppose offshore oil drilling, via Progress Florida.
Tell Sen. Atwater Not To Allow Oil Drilling In Special Session, via Audubon of Florida.
Sign the petition against oil drilling, via Protect Florida's Beaches.
Tell Salazar: No drilling off Florida's Coast, via Environment Florida.
Tell new Senator LeMieux to Repower America, via Environment Florida.
Related action: Don't go drill crazy in the Everglades, via Center for Biological Diversity.
Related action: Keep oil drilling out of climate change legislation, via Oceana.

ADDITIONAL RESOURCES OF NOTE
Hands Across The Sand website; their Twitter page is here.
Protect Florida's Beaches, recently launched coalition website.
Protect Florida's Beaches on Facebook.
Think, Baby, Think blog via Protect Florida's Beaches.
Don't Drill Florida website.
Don't Drill Florida Facebook page.
Save Our Shores Florida website; their Twitter page is here.
Floridians Against Big Oil social network.
Save Our Shores Florida Facebook page.
Florida Coastal and Ocean Coalition website.
Environment Florida offshore drilling page.
Southern Alliance for Clean Energy offshore drilling page.
Skytruth blog, an excellent source of info.
Not the Answer blog, courtesy Surfrider Foundation.
Eye-opening map of oil and gas leases and infrastructure in Gulf of Mexico, via MMS.
EnergyFLA.com, online hub of drilling proponents; their Twitter page is here.
MORE GREEN NEWS
House adopts fisheries, climate and nitrogen resolutions
By Bruce Ritchie
FloridaEnvironments.com
The Florida House adopted resolutions Wednesday calling on Congress to roll back federal environmental regulations or not adopt new ones.
Septic tanks study gets $2 million as delay language looms
By Bruce Ritchie
FloridaEnvironments.com
House and Senate budget conferees have agreed to provide $2 million to the Florida Department of Health for an ongoing study of septic tank technologies.
Growth has consequences
By Dori Sutter
Orlando Sentinel
Like a game show, produced and directed by developers and local officials and sponsored by the economy, development provides an entertaining scenario until the show ends with too much growth, too fast and without need.
Groups raise concerns with nuke plants' design
By Bruce Ritchie
FloridaEnvironments.com
Twelve national and southern environmental groups called on the Nuclear Regulatory Commission to delay action on proposed new nuclear plants, including two in Florida, because of design flaws that raise safety issues.
Fla. Superfund lawsuit seeks more than $500M
By Brian Skoloff
The Associated Press
Residents of a neighborhood on the edge of a polluted Florida Superfund site sued the property owners Tuesday, seeking at least $500 million to decontaminate their homes and monitor their health.
Atlantic right whale calving season ends with 19 born, possible changes ahead
By Caren Burmeister
Florida Times-Union
The Atlantic right whale calving season is over, and while it didn't set records, biologists are pleased that 19 calves were born, many of them off St. Johns County's coast.
Everglades hunt for Burmese pythons fails to catch any snakes
By David Fleshler
South Florida Sun-Sentinel
With Burmese pythons infesting the Everglades, the state wildlife commission turned to a formidable force to kill them: Florida's licensed hunters.
Health care success bodes well for climate change legislation
By Steven Pearlstein
Washington Post via St. Petersburg Times
Six weeks ago, it looked as if there was no chance that Congress would approve climate change legislation this year.
PSC overhaul moderated in compromise House bill
By Mary Ellen Klas
St. Petersburg Times/Miami Herald Tallahassee Bureau
After meeting resistance from the governor and Senate, the House on Thursday backed off a sweeping plan to overhaul the Public Service Commission and instead proposed a plan to study the structure of the utility regulation board.
Water bill amended to address DEP concerns, senator says
By Bruce Ritchie
FloridaEnvironments.com
A far-reaching Senate water bill will be amended to address concerns raised by the Florida Department of Environmental Protection, the bill's sponsor said Thursday.
State focuses on Flagler manatee protection
By Dinah Voyles Pulver
Daytona Beach News-Journal
Under orders from state wildlife officials, Flagler County must put together a citizens advisory committee to help determine whether new boat speed limits should be imposed in sections of the Intracoastal Waterway.
State college smashes world recycling record
By Billy Cox
Sarasota Herald-Tribune
State College of Florida probably crushed the record for collecting the most number of plastic bottles with the first load of the morning. But a Guinness World Records authority made it official at 3 p.m. Thursday -- just halfway through a scheduled eight-hour window.
Editorial
Miami Herald
Here's a lesson for middle-school students who will be required to take civics classes under a proposed law headed to the governor: Look out for closed-door shenanigans when a law gets passed -- or not -- in Tallahassee.
Editorial
Tampa Tribune
The Florida House of Representatives leadership is holding the state's lead planning agency hostage in the waning days of the session.
The bull's eye on a state environmental agency, and meek support for a solar energy program, make this legislative session disappointing
Editorial
South Florida Sun-Sentinel
Legislators have two weeks left in their 2010 session to show Floridians they care about the environment.
Wildwood Preservation Society is a non-profit 501(c)(4) project of the Advocacy Consortium for the Common Good. Click here to learn more.
"it's all connected"